CASA FRANCES - OUR HOLIDAY FARMHOUSE IN THE MARCHE
This section lists the local festivals of food and wine in the Marche - Scroll down for some information on local restaurants.
Food and Wine Festivals in the Marche region.
---

---
May
San Venanzo 'Sagra de li Vincigrassi'- late May a food and music festival based on a lasagne dish

June
Pianello (near Cagli) - Sagra della Lumaca (snails) - mid-June
Apiro (near Cingoli) - Sagra del formaggio pecorino (pecorino cheese)
July
Sefro (near Camerino) - Festa della Pizza - early July
Matelica - Sagra della Rana (frogs)
Ostra Vetere (near Corinaldo) - Festa della trota (trout) - earlyJuly
Montemarciano (near Senigallia) - Sagra del pesce (fish)
Corinaldo - polenta festival on third Sunday in July to commemorate the time when the town's people successfully resisted a siege thanks to copious supplies of the stuff.
Sefro (near Camerino) - Festa del Tortellino alla boscaiola (pasta) - late July
Castelplanio (near Jesi) - Sagra della crescia sul panaro (stuffed flat bread) - last Sunday of July
Ostra Vetere (near Corinaldo) - Sapori ed Aromi di Casa Nostra - late July - local food, music and a procession of old farm machines
August
Monte Vidon Combatte (near Fermo) - Sagra delle quaglie (quails) - 1st Sunday
Sassoferrato - Sagra del Cinghiale (wild boar)
Cingoli - Sagra di prosciutto e melone
San Severino Marche - Sagra della ceca (chick peas)
Staffolo (near Cingoli) - Festa del Verdicchio (verdicchio wine festival)
Fermo - Sagra delle vongole (shell fish)
Serra San Quirico (near Fabriano) - Sagra del coniglio in porchetta (roast rabbit with fennel)
Monteprandone (near San Benedetto del Tronto)- Sagra delle olive fritte (fried stuffed olives)
Pedaso - Sagra Nazionale delle cozze (mussels)
Massignano (near Ascoli Piceno) - Sagra delle frittelle (omelettes)
Vererotta (near Ascoli Piceno) - Sagra della vitella allo spiedo (spit-roast veal)
Loro Piceno - Sagra del Vin Cotto (a sweet "cooked" wine)
September
Apiro (near Cingoli) - Sagra della polenta
Montecassiano - Sagra del pesce (fish)
Cupramontana - grape festival in the heart of Verdicchio wine country
Piandimileto (near Urbino) - Mushroom fair
Lapedona (near Fermo) - Sagra del Vino Cotto (the Marche version of Vin Santo)
Fermo - Sagra della Polenta
Arcevia - Sagra dell'uva (grape festival)
---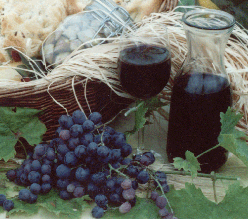 ---
October
Acqualagna (near Cagli) - Fiera nazionale del tartufo (truffle fair) - last weekend in October and first two weekends in November.
Acquasanta Terme (near Ascoli Piceno) - Festa d'autunno (autumn produce)
Montemonaco (near Ascoli Piceno) - Sagra della Castagna (chestnut) Castelsantengelo sul Nera (near Visso) - Sagra del Marrone Castellano (chestnut)
Sant'Agata Feltria - White Truffle fair
Sant'Angelo in Vado (near Urbino) - Mostra del tartufo bianco (white truffle)
November
Monte San Martino Vino Nuova Novello (New wine and chestnut)
Talamello (near San Leo) - Formaggio di Fossa cheese fair
Acqualagna (near Cagli) - truffle fair - last weekend in October and first three weekends in November.
---
RESTAURANTS
Possibly the best restaurant I have ever eaten at! Our wedding reception was held here and we have been back severel times since. Predominantly fish, and should not be missed. It is fairly expensive for Italy, but you will pay 5 times this if you can find a similar restaurant outside italy.
La Rincrocca - Will be updated
A great restaurant in the center of historical Jesi (another city not to be missed). It has an outside seated area on a terraced courtyard. The food is not traditional Italian and has an African tang with a Mexican twist - cooked by Italains. Overall a great restaurant in a stunning location.
Il Disiderio - pizzeria - Will be updated
Pizzeria Ragno d'oro - pizzeria at Cingoli - Will be updated
Ristorante Dei Conti Via Cristianopoli, 47 62011 - Cingoli (MC)
Phone: (+39) 0733 602882
Fax: (+39) 0733 602882
http://www.emmeti.it/Welcome/Marche/ProvMacerata/Cingoli/Ristoranti/Conti/index.uk.html - Some useful information on this restaurant.
Lo Smeraldo - cresce (like thin pizza, not dressed), salami and Cheese. The Italians go mad for this, it is a local traditional meal.
Agriturismi - Restaurants that are based on farms. These serve high quality "Pure" food, made on the farm. Very rustic but good food. Dry cured meets, cheeses and cresce.
http://www.florianicompagnoni.it/page/home%20inglese.htm - the site of one particular agriturismo.
http://www.marcheweb.com/agriturismi.htm - a directory of many different agriturismi
---
More about food in the Marches (Le Marche)
The culinary delights:.
From the delicious fish of the Adriatic to the tasty dishes of the hills and mountains, the Marches offers an incredible and cheap variety of food cooked in the traditional manner using only seasonal ingredients. We name but a few to get your taste buds salivating.

There are a vast number of recipes for fish and seafood and various versions of brodetto, a smooth, velvet-textured fish stew containing some thirteen different types of fish, in San Benedetto del Tronto it is made with green peppers and in Porto Recanati flavoured with saffron. This dish is traditionally prepared by the local fishermen, served in many restaurants each competing for the place of honour as far as their recipe is concerned. Zuppa di balleri which uses date mussels, removed with difficulty from the rocks in deep water areas is a delicacy and typically a summer dish is reputed to have aphrodisiac properties.
A custom which goes back to the times when the way of life was more modest is that of stuffing various vegetables and serving them as the main course, one of these recipes which has conquered the home market and are even deep frozen for export is olive ascolane, which is an exceptionally large, fleshy olive, stuffed with meat and herbs, coated with breadcrumbs and then fried. Vincisgrassi made to a traditional recipe of the Macerata area is a pastry consisting of boiled egg pasta layers alternated with a thick sauce of minced chicken giblets, fresh tomatoes, butter, parmesan and mozzarella.
Pork is the staple meat item of the inland area and the porchetta (roast suckling pig), a national favourite, originated from this region. The famous porchetta: roast pork with a herb, garlic and stuffing all of which is seasoned and roasted on a spit in a wood oven until crackling and golden, proscuitto and ciavuscoli are just a few of the many pork products made in the area. You could try this method of cooking for yourself using the wood oven at the house. There are also the renowned Carpegna hams, the salami of Fabriano and the Marches is well known for the cultivation of truffles, both the black and the white variety and there is a truffle fair in Amandola each autumn.
The best known pasta dish of the Marches is maccheroncini Di Campofilone, a very thin tagliarini served with ragout. Near the Monti Sibillini, lentils are widely grown, these are eaten with cotichino, a pork sausage, it has a good wholesome flavour.

Cakes deserve a special mention: the local recipes are still prepared, especially in the country, celebrating every part of farming life, reaping, threshing, the grape harvest. Cakes associated with the traditional festivals are still prepared, for Christmas we enjoyed a bread full of nuts, dates and honey made by our local farmer/neighbour, all the family enjoyed this one! The fragrant food, cakes and sweets of the Marches are best accompanied by the fine wines from the hills.

Wines from Le Marche region are well known, excellent, inexpensive and are celebrated in many festivals -

Whites include the:
Blonde Verdicchio from Castelli DI Jesi
Bianchello from Metauro
Falerio from the Ascoli hills
Verdicchio dei Castelli

Among the reds are:
Rosso Conero
Sangiovese dei Colli Pesarest
Venaccia DI Serrapetrona
Lacrima DI Morro d'Alba
........................................ to name but a few.