CASA FRANCES - OUR HOLIDAY HOUSE IN THE MARCHE Italy
This section shows some of the History of the Region of the Marche.
---
History of The Marches, Italy

---



A march, in the Middle Ages meant a border province of the Holy Roman Empire. With no better name than that, one might expect this Italian region to be lacking in personality. In fact, this has always been the unique part of central Italy. In ancient times too it was also a border zone shared by Umbrii, Gauls, Sabines and the Piceni, a warlike tribe that had for its totem the picus, or woodpecker, which was also the sacred bird of the war god Mars. They occupied much of the central Adriatic; their name survives in their old capital, Ascoli Piceno. The Romans called it the Annonaria, for its annual production of cereals and cattle.
The central Italian Apennines have combined with nature to shape the Marches unique landscape, a wonderful blend of rural cultivation, and undisturbed nature.A Marche or Marca denotes a borderland governed by a Margrave or Marchese. These 'Papal States' as they were very much regarded as almost the Popes private land, were in 1860 joined with united Italy after the Pope's army was routed at Castelfidardo and Ancona was overrun.
The overwhelming feeling in the Marches today is the relationship of the people to the land. It is the 'land of 100 cities', without any real centre, but full of towns which serve as areas of nearly self-sufficient communities of farmers and craftsmen, and where the local market consumes most of the local product. Farms, light industry and small cities with community life still centred around family and commune, give a human dimension to the Marches, with the legacy of a devoutly religious people still infused with good will to all men it is an area of italy(and the world) one is proud to be associated with.
Their land, tucked between the Apennines and the sea, is one of the greenest, prettiest, friendliest , and most civilised corners of Italy, with two lovely Renaissance art towns in Urbino and Ascoli Piceno, beaches aplenty, wonderful art, and dozens of fine old rosy brick, and stone, towns in the valleys that lead up to the impressive peaks of the Sibillini Mountains, one of the highest sections of the Apennines.The Sibillini Alps are a wild place draped around the Piano Grande a gigantic meadow,16km square; with high peaks on all sides. From May to July it is carpeted with reds, yellows, oranges and purples from poppies and other wild flowers.The Marches are to Umbria what Umbria was to Tuscany, not so long ago.
For those with a fatal attraction towards central Italy, the Marches offer-more of the same at lower prices, new emerald landscapes and hill towns.
---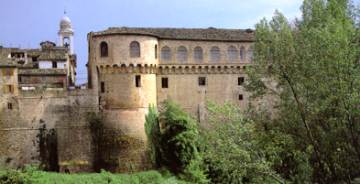 ---
For Further information on the Marches visit:-