CASA FRANCES - OUR HOLIDAY HOUSE IN THE MARCHE
THIS SECTION HIGLIGHTS JUST SOME OF THE LOCAL ATTRACTIONS THAT MAY BE OF INTERESTIN LE MARCHE IN THE LOCALITY OF THE FARMHOUSE.
In this section I have tried to highlight just some of the local attractions available in the marches (le Marche), places that could be interesting to visit on a day trip. I would also recommend looking at the Local Events section. There are also very frequent food and wine festivals which are well worth a visit.
---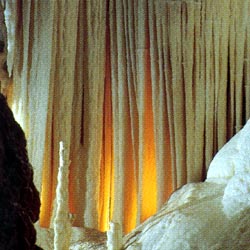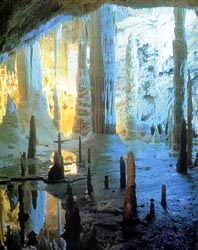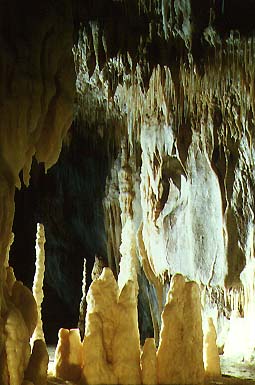 Make for the plunging Frasassi Gorge for a "journey to the centre of the Earth" through the Grotte di Frasassi, one of Italy's largest and most famous complex of caves.
An ideal jaunt for a rainy day. Some 13 km of limestone caverns have so far been explored and it is reckoned that they may run for up to 35 km. Only one and a half km of this crystalline wonderland is open to the general public. Equipped with walkways and theatrical lighting, it includes the awesome Grotta Grande del Vento, Europe's largest single cavern, so vast that Milan Cathedral would fit comfortably inside, and some of the most extravagantly fanciful stalagmites and stalactites you are ever likely to see. Even claustrophobics shouldn't find it too challenging.
The guided tour lasts for around an hour; dress up warmly as the temperature inside is a constantly low 14 degrees C. Be warned that it can get quite crowded in high summer.
The highish admission charge is well worth it. From Nov to Feb there are tours daily at 11.00, 15.00 and 16.00; from March to Sept daily tours at 9.30, 11.00, 12.30, 15.00, 16.30 and 18.00 with continuous tours in Aug from 8.00 until 18.30. For information telephone +39 0732 97211 or fax: 0732 972001.
Even if you don't have time to see the caves, stop to admire the splendid backdrop of the Frasassi Gorge and the Romanesque church in the little spa of San Vittore delle Chiuse (right by the cave ticket office and car park). This tiny, perfectly square chiesetta was built in the 12thC on chastely simple lines and is one of the prettiest of its kind in the Marche. (To see inside ask for the keys at the tobacconist's opposite.)
---
Aqua Fun,
This is the google translation of an italian description!! Its quite amusing in places.
E' between more celebrates aquatic parks us of Europe, is extended on a surface of 150.000 meters squared, has tantissime attractions for all the ages more areas for the sport, accessible also the night where music can also be danced and be listened. From the 8 june to the 15 september from hours 10,00 to hours 18.30. From the 8 june the saturday evening, from the 3 to the 24 every evening from 22 all 4 with swimming pools and slides in function until the midnight. Available: a restaurant self-service, bar, fast food, varies kiosks of minibar, gelaterie and hot dogs, an area pic-NIC, various bazaars and centers shop, chartering cabinets, safe deposit boxes, a wide parking for pulman and automobiles; in more: free brandine gommoni and beach umbrellas.
Income adult: Euro 19,00
Income children from 6 to 11 years and adults over 60: Euro 12,00
For the children from 0 to 5 years FREE
Via Pistoia - 47838 Riccione (RN) FROM RICCIONE: from the railway station, bus number 51 - 42 - 45 FROM RIMINI: trolley bus n° 11 Rimini-Riccione; to the capolinea (Riccione Garden) to take the coincidence with 51 and 45. IN CAR: A14 freeway in Riccione escape
http://www.italyguide.com/parchi_italia/aquafun.htm - Some more information
---

San Faustino - water park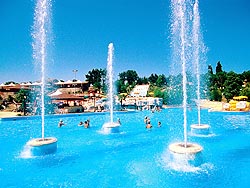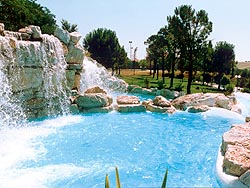 ---
There are many stunning medieval towns scattered around le Marche - Jesi is one such town.
Jesi - a fantasic medieval town, surrounded by walls.
Great shopping and architecture.

---
Casa leopardi - Poto recanati

---
The sea side.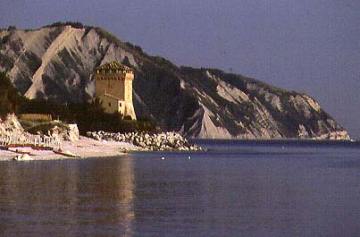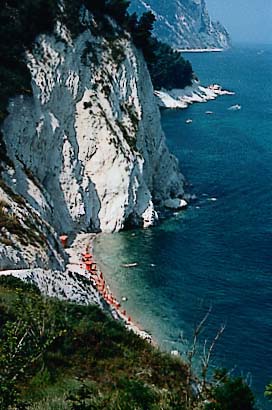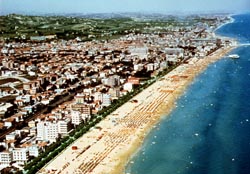 Sirollo, Monte Conero - Fantastic seaside town with some of the best beaches in the Le Marche.
---
Skiing
Visitors to Avenale can go skiing at Sassotetto, near Sarnano (approximately) 1 hours drive from the house and, adjacent to it, the resort of Pintura near Bolognola.

Further afield are the resorts of Frontignano near Ussita and Monte Prata near Castel San Angelo sul Nera.

The following table shows the facilities at each resort:

Sassotetto 7 ski-lifts, 1 cable car
Pintura 8 ski-lifts
Frontignano 7 ski-lifts, 1 cable car and 4 chair lifts
Monte Prata 4 ski-lifts
The pistes are of varying length and difficulty but are easily accessible and, unlike more commercial regions, when we were there over the Christmas period, there were no queues at the ski-lifts!

In addition there are the beautiful cross country skiing courses at Piani di Ragnolo and Piano Perduto and, for the more adventurous and skilful, there is mountain skiing in the Sibillini.
---